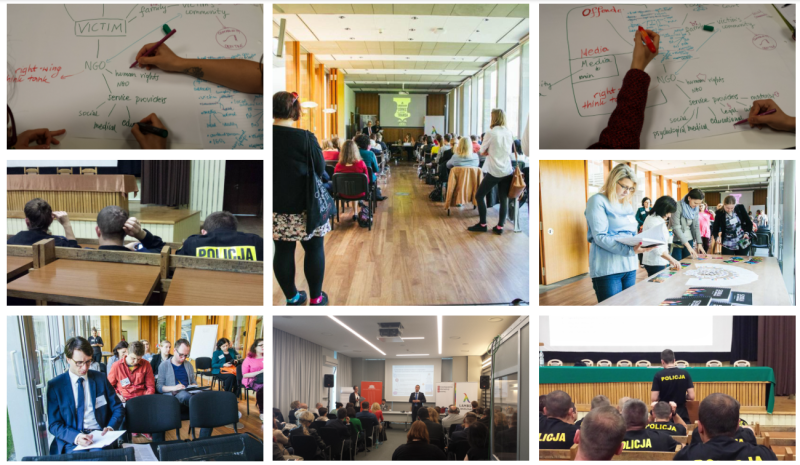 Fighting hate crime, discrimination and human rights abuses requires professional competency that may be developed through capacity building combined with hands-on experience. A well-designed and delivered training session may be a fun and effective way of learning the ropes, helping you understand the key concepts, deliver high-quality service and prevent burnout.
Continued professional development courses 
I provide training for police officers, prosecutors, judges, social workers, civil servants, victim support services and NGOs. I can design and deliver training in a variety of formats, including online and in person. Each session is preceded by a thorough training needs assessment, ensuring that we reach learning outcomes.

I provided CPD training for:
Human Rights Monitoring Institute | Lithuania
Estonian Human Rights Centre
Bar Association | Poland
Campaign Against Homophobia | Poland
Get in touch if you'd like to discuss your training needs.
Equality, diversity and inclusion sessions
I enjoy meeting with employee resource groups aiming at improving equality, diversity and inclusion in their organisations. I have worked with banks, consultancies and other international companies.

Some of the companies I collaborated with include:
BNP Paribas
Natwest
Oliver Wyman
If you're interested in discussing a meeting for your company, please reach out.
Project development and grant writing support
I love brainstorming new ideas and turning them into the technical language of project writing. So far, I have led on more than 20 successful bids, bringing more than 2 million EUR to universities and civil society organisations across Europe from funders such as the European Research Council (Horizon2020 Marie Sklodowska-Curie Actions), as well as private and national funding bodies.

If you have trouble defining your project's goal and objectives, creating effective work packages and timelines or discussing the impact of your actions, I can help!